Our
Towing & Wrecker

Services
Below is detailed section of our towing / wrecker services as well as details about our auto repair services that we provide.
Heavy Recoveries Our Heavy Duty tow trucks are designed For:
Roll-Overs
High Centers(Bottoming Out)
Accident Recovery
Winch-Out
Buses: Tour, Charter, City
Semi -Tractor Trailers, Tankers
Bobtails, Straight Trucks
Cement Trucks
Garbage Trucks
Cranes
Motor Homes
Dump Trucks
5th-wheel Trailers
Heavy Equipment Transport
Towing / Wrecker Equipment:

Light Duty Towing: Our light duty trucks are able to tow vehicles using a "State of the Art" wheel lift system, which can pick up all four wheels off the ground. This allows us to tow vehicles that don't roll, are stuck in gear, or are heavily damaged. Our Light duty trucks can tow all types of Small Trucks, Automobiles, SUV's and Motorcycles.

Flatbed Towing:
Our Flatbed Towing equipment utilizes the latest techniques designed for the towing industry, including air ride, hydraulic pumps, safety chains, wheel lifts and tie down straps. Our Flatbeds are ideal for towing exotic, classic and show cars, light equipment, all wheel drive vehicles, containers and extreme accident vehicles.

Medium Duty Towing:
Our Medium duty trucks are the most versatile tow trucks on the road today. They are equipped with air ride suspension and modern wheel-system, which eliminates all contact with your vehicle except for the rubber on your tires, cable boom paint protectors, hydraulic controls for all under lift functions. Our Medium Duty Trucks are ideal for Box trucks, School buses, Delivery Trucks, Class C Motor Homes, Utility Trucks and Large Ball hitch trailers.

Heavy Duty Towing:
Our Heavy duty trucks were designed to handle the heaviest of trucks on the road today and are equipped with air ride suspension, under-reach and wheel lift capabilities, allowing for damage-free towing. Our Heavy Duty Trucks are used to recover Commuter buses, Tractor Trailers, Loaded Dump Trucks and Garbage Trucks.
Roadside Service
Don't be surprised if you call us to tow your vehicle and we fix a simple mechanical flaw to get your car or truck back up on the road. Our belief is to continually exceed our customer's expectations and provide the best possible service. Our outstanding customer retention rate is proof of our commitment and confirms our ability to provide superior service and customer satisfaction.
Medium Duty Recoveries & Towing:
Box Trucks
Class C Motor Homes
Utility Trucks
Buses
Delivery Trucks
Large ball hitch Trailers
Light Duty Recoveries & Towing:
Cars
SUV's
Vans
Minivans
Pick Up Trucks
Small Trailers
Motorcycles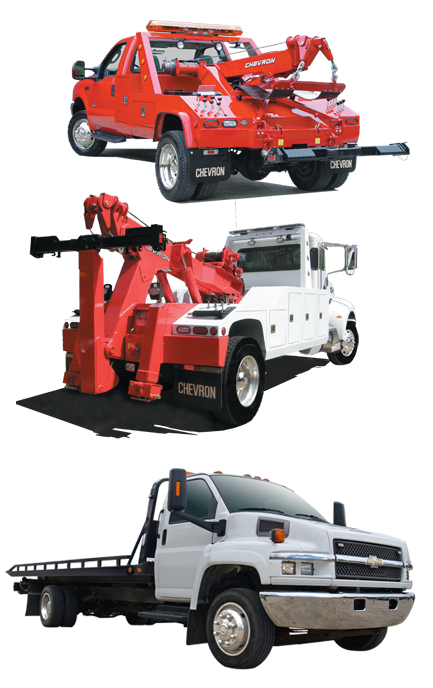 A brief list of roadside services we provide:
Jump start (dead battery)
Tire Change (passenger vehicles, cars, vans, suv, pick-up)
Lockout (keys locked inside vehicle)
Fuel Delivery (gas & diesel)

Complete Auto Repair Services Including:
ENGINE REPAIRS & TUNING
FUEL SYSTEMS, EMISSIONS SERVICES
BRAKE SERVICES
WHEELS & TIRES
MAINTENANCE SERVICES
COOLING & HEATING SYSTEM SERVICES
ELECTRICAL CIRCUITS & ELECTRONICS
CHARGING & STARTING SYSTEMS